Reaching Major Milestones with Personal Training
We are highlighting our Student success stories and today on our Instagram we posted about Scott reaching a major milestone. He has been in our personal training program for quite some time now, in Huntington, NY. For the first time ever – he was achieved 5 sets of 5 Dips in a single session!

He started off able to do 1-3 dips consistently, which we consider one of the best upper body exercises.

We set out a goal of not just 5 reps total – but 5 SETS of 5 reps, on a set rest time. After a block of training, Scott achieved it for the first time!

Check out the first time he achieved his 5 sets of 5 dips!

We've been helping people in Huntington and surrounding area achieve goals like this for 5 years now and we have stories to tell & more future students to help. We decided we wanted to share a bit about how we helped Scott get there, in hopes it will help you as well.
1. How many dips can you do now?
We tested his dips to see where his capacity was.

We noticed he could do 3 good reps, but then would fatigue for later sets. If he started with 1-2, he could perform more sets!

With this information, we can create a tailored plan to the individual for personal training.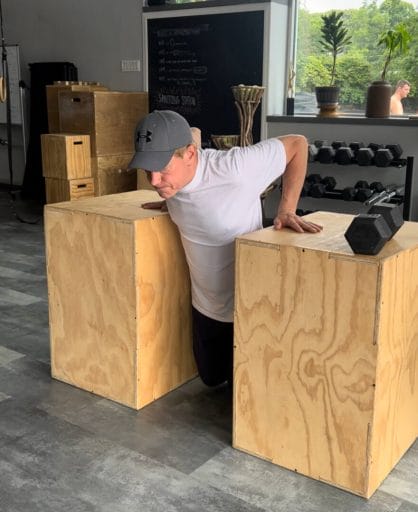 2. Utilize proper rest times – Accountability with Personal Training

Scott was on strict rest times – 100s between sets. This allows us to truly understand progress session to session since we maintain most variables consistently.
Since we are working 1-1 with him, we can hold him accountable to the clock!
3. Progressive Overload to Achieve your Goals
We have to put in the effort necessary to make change. Scott pushed himself each session so that his body would make the adaptations necessary. More importantly, he showed up! Can't do the work, if you don't show up!

That is what happens when professional planning & experience come together to achieve any goal or skill. Personal training should be PERSONALIZED!

We are so proud of him and hope this process helps you go after your goals next.

ICYMI – Check out Angelique's achievement from last week!

Keep moving,

The Locomotion Team

Ready to book a call for Personal Training or Group Classes in Huntington?

You can book a call here and get started!